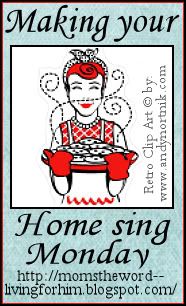 Welcome to the "Making Your Home Sing Monday" meme! Glad you're here!

I have to admit that I have not been concerned about making my home sing, lately. Somehow when you're sick and not feeling well, your priorities change. Some colds affect my asthma more than others, and I find myself needing to take it easy.

In the past I would drive myself to do the things that needed doing, meals, dishes, laundry, picking up.....but I think that sometimes that only succeeded in making my recovery take longer. Sometimes, making the home sing when you're sick means taking care of momma, and letting the home slide as much as possible. Sometimes it means lowering your expectations for awhile.

Usually when the kids are young and mom is sick, she still needs to keep up with the kitchen and meals and caring for the kids. Not an easy thing when she's sick. Who cares for mom and the kids when mom is sick and dad is at work all day? The answer: mom....or grandma if she's available.

Mom will often ignore her own needs and wear herself out meeting the needs of her kids and her family. She will force herself to try and stick to her regular routine, even at the risk to her health. But Mom needs to realize that sometimes she just has to cut herself some slack, and let go what she can, rest when she can, and take care of herself. Because she matters too.

My kids are older now and so they are able to fend for themselves. My hubby will usually take over the meals when I'm sick but for some reason, I feel the need to be out there making sure the kitchen is clean. Old "mom" habits die hard and it's hard to let go of the reigns and the control. It's hard to let someone else take care of you. This week I haven't needed to do as much as hubby took over the kitchen cleaning and the meals.

However, I have a fairly messy home right now. I have not been doing my usual picking up. The pick up isn't even other people's stuff, for the most part. It's MY stuff that I left out.

Usually I will do a quick pickup, even when I'm sick. I will force myself to get up and do something for five minutes. Even five minutes is an improvement.

But I just haven't been doing that much these last couple of days. So for me, I will make my home sing by just trying to put everything back in order. I will let my asthma and energy guide me, and rest if and when I need to, and not push to hard. I will do a little at a time and get everything back in order as soon as I can.

Sometimes, for me, making my home sing is just about having a comfortable, clean, singing, smiling home. It makes things less stressful and chaotic and more restful to have things all neat and orderly. It's no fun to look at a mess all day, a least in my opinion. So this week, as I feel better, I am all about restoring some order around here and banishing the sickies.

I want my home to be warm and welcoming, clean and inviting. I don't want it to look like nobody cares about it. So this week it's time to banish the "sick room" look and put everything back in it's proper place. It may not seem exciting or much, but it will make me happy to do this!

What are you doing or going to do today to make your home sing?
Please go
here
for instructions and/or ideas and come back here to link up to join us today! As always, please don't forget to link to this post. Also, please don't forgot to leave me a comment!

Please note that with the new restrictions on Mr. Linky you will have to click on the link shown in order to link up. Just follow the instructions and click where it tells you and you'll still be able to link up. Also, don't forget to visit one another's posts and support and encourage each other!