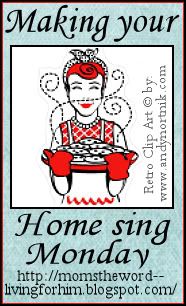 Welcome to the "Making Your Home Sing Monday" meme.
Sometimes you're just to tired to make your home "sing." Sometimes, your life can get super busy and you can be pulled in several directions at once. You can't do everything. Something has to give.
That is one of the big frustrations of being a mom. How do you do it all? How do you manage it all? Where is the balance? What are your priorities?
Since my mom was ill and hospitalized I have been back and forth alot to visit her. The phone rings off the hook it seems, and there are things that need looked after. Not only that, but I still have to homeschool my youngest and I have had other outside responsiblities that I've needed to help with as well.
Welcome to the life of a mom. There is always something that needs doing. Someone or something that needs attention. Something that needs cleaning. Something that needs washing. Responsibilities inside and outside the home to look after.
Sometimes you can make choices to stay home and not go anywhere. That makes it easier to keep up with your responsibilities at home. But sometimes, you just can't do that. There are places you need to be (like visiting someone who is ill), or things you need to help with or whatever.
Sometimes, what makes my house sing is to let some things go for a time, if I need to. You will be thrilled to know that as I write this, I have discovered that I washed a load of laundry in the washer and totally forgot about it. It smells like it too! I have been pretty much in and out for the last couple of days so I totally dropped the ball on that one.
Frankly, I am o.k. with it. You can only juggle all the balls for so long. Eventually, you'll drop one. Sometimes, the way to make your house sing is to just accept that sometimes there are better choices to be made. Given a choice between visiting my mom and mopping my floor, I will choose my mom. Giving a choice between enjoying some time with my sons or windexing the mirrors, I will choose my kids.
That doesn't mean that the housework never gets done. We don't want to use our responsibilities as an excuse to not care for our home or family at all. Everyone is busy, there is always someone busier than you, and there is always someone who gets more done than you do, no matter how busy they are. It just seems to be that way sometimes.
So it doesn't mean I'm not going to ever do the housework. It just means that during busy times or times of stress, I am choosing to lower my expectations and just chill!
Dishes need to be done, meals need to get cooked, laundry needs to be processed. But if the floor doesn't get mopped, noone is going to experience any great degree of suffering over it (at least, I hope not, lol!). It'll get done eventually.
Now, if you'll excuse me, I have a stinky load of clothes to rewash and a sink full of dirty dishes to get to, and please whatever you do, don't open any doors.....
What are you doing or going to do today to make your home sing?
Please go
here
for instructions and/or ideas and come back here to link up to join us today! As always, please don't forget to
link to this post.
Also, please don't forgot to leave me a comment!