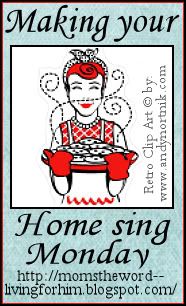 Welcome to the Making Your Home Sing Monday meme!
Today's post won't apply to everyone, or maybe even anyone, but I do feel that there is some importance to it so wanted to share it. This one is a long one, sorry.

Do you honor Dad in your home? Do your children see dad as an authority figure, or just as another "kid." Do you encourage your children to respect him? Do you support him in front of the children, even if you don't agree, or do you undermine his authority in the home?

Do you say that dad "doesn't know what he's talking about" or "don't listen to your dad" or other comments like that to your children? Do you talk against your husband in front of your friends, or in front of your kids? Do your children see you as the head of your home? Is your husband just a breadwinner?
Sometimes mom and the kids can become a team ganging up against dad. Mom feels good having a little support in her court, and dad feels ganged up on. All in all, not a great thing for the marriage or the family.
Also, many times as young mothers, it is easy to usurp the husband's God-given authority in the home. It isn't like it's done on purpose. It's just that, after the baby is born, mom often becomes "the authority" on the baby.

She knows when he ate last, how long he slept, when he needs to eat again, when he was last changed, etc. This can continue as the baby gets older and becomes mobile and talking. Mom knows when he needs to eat, when he needs to nap, why he needs a time-out and so on.

If the child goes and asks dad "Can I have a cookie? Can I have an apple? Can I go to a friend's house?" many times dad will say "Go ask your mom." Because usually mom knows whether or not it will spoil his dinner, she knows if he already had an apple today, she knows whether he can go play at the friend's house or not.

Usually, with dad being at work and all, he is not quite as aware that his son has already had three cookies today, isn't allowed to play with the kid next door, or whatever. So he is more than happy to send the child to mom for an answer.

While totally understandable, this can backfire. I remember my husband telling my son he could do something once and my son said "Did you ask mommy?" He was maybe about three or four at the time. It was at this point that we realized that our oldest was beginning to see me as the sole, ultimate authority in the home.

We want to involve our husbands in the decision making. Sending the child to dad with their questions establishes not only dad's authority, but also teaches the child that they can go to dad with anything. It teaches them that dad is interested in what they're thinking, feeling, etc. The kids get used to going to mom all day when dad is at work, and they will often continue to go to mom even when dad is home.

Some dads will shy away from making the decisions at first, as they are afraid of making the wrong one. They may also be afraid of your reaction if they make the "wrong" decision. Some need to be encouraged to make some decisions, even if they want to run them by mom first!
Some really don't care and will often prefer that the child goes to mom. However, you are building for the future here. We don't want to downplay dad's role in our children's lives. We don't want to make it seem as if mom is the head of the home and all dad is good for is money. As the kids get older and become teens, you want to be in this together.

What you are doing here is involving your husband in your child's life. What you are doing is sharing the role of parenting. Teaching the kids that mom and dad are a team, and that that team is in the kid's court. There to love, support him, and discipline him if need be...together.

Honor your husband in your home. Make sure your children know that dad is more than a financial provider. When daddy comes home, have the children greet him at the door, and you greet him too. Make daddy's coming home a pleasant experience for everyone.
For some, the idea of respecting their husband is a tough one. Maybe they feel their husband hasn't earned their respect. Maybe he doesn't want to be involved. Still, we are told by the Lord to honor and respect our husband. We are responsible to God for our actions, not our spouse's actions.

Carrie did a great post
here
about respecting our husbands which covers alot more than I have time or room for here. Please pop over and give it a read!
Today one way to make our homes sing is to remember to honor our husbands, and to give them the respect that the Lord tells us to give. It isn't up to us to decide whether or not they deserve it. We are just told to give it. Let the Lord love your husband through your actions today.
What are
you
doing or going to do today to make your home sing? Please go
here
for instructions and/or ideas and come back here to link up to join us today! As always, please don't forget to leave me a comment!