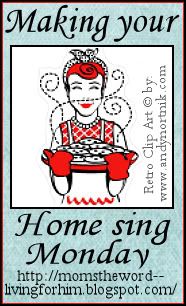 Yes, it is time for the Making Your Home Sing Monday meme! Every day you are doing something to make your house into a home for yourself and your family (if you have one). My point with each Monday post is, what are you doing or going to do today to make your home sing? It can be an attitude or an action. Motivation, our attitude, baking, encouraging our husband or children (if we have either one), organization, cleaning, saving money....the opportunities are endless.
Ladies (and the three gentlemen that told me they read this blog from time to time, hey guys!), summer is officially here. When summer comes something happens to me. I make
big
,
big
big
,
big
,
big
plans for things I want to accomplish over the summer.
I make lists of things I think would be fun to do it as a family, I make a list of projects that I want to accomplish as a family, I make a list of personal projects that I want to accomplish (as in giving the house a good ole' spring cleaning....only in summer).
I have plans to read books, garden, maybe paint a birdhouse or two, painting the railing or redo the bathroom, exercise, go for long walks or bike rides, yard sales, bbq's with friends, solve the world's problems, build a rocket that can go into space for a lot cheaper.....blah, blah, blah.
What usually happens at the end of the summer is that I am underwhelmed with all I've accomplished. I feel like the summer flew by, I didn't get everything done that I wanted, and I end up feeling very frustrated, and sometimes I feel like a failure.
Sometimes I feel guilty for the fun and relaxation that I did have, because it mean that I wasn't being "productive." Sometimes I feel guilty for being to "productive" and not relaxing enough!
I am very detail oriented. You probably don't know that about me, especially when I type in a hurry. But I am. I like to be organized, and I am a planner. I like to be prepared, people, down to the last detail.
So relaxing and just flying-by-the-seat-of-my-pants (who made that up, anyway?) doesn't really work well with me. I like to have a plan. I want to accomplish something. I need to accomplish something. I have to accomplish something!!!!!
Having my little plan, and marking off my little lists puts me in my happy place! If you don't believe me just ask any of the people that know me well. Sadly, they will tell you it's true....sigh! Frankly, I'm surprised the
Five Moms
didn't boot me out the first week, after having to read my 5,000 emails a day obsessing over every little detail. (But I'm glad they didn't,
love you gals!)
So, here is my plan for making my home sing, and yes it does sort of defeat my purpose to have a plan.......ironic, isn't it?
First, I am going to try and have reasonable expectations for my summer. I
am
going to be doing a
Summer
Cleaning
Frenzy
(because I enjoy that sort of thing).
If you want to join us in whipping our homes into shape, one room at a time this summer, please go
here
to find out what it's all about and how to join us and become a
Summer Cleaning Frenzy Friend
! I'll be posting updates and linking to all the
Friends
on my blog soon. Come on, it'll be fun!
As part of it, I'll be using my spring/summer cleaning list, you can view the
current
room I'll be working on by clicking
here
. There's also a link posted on my right sidebar (under my daily to-do list) and I will update it as I go. Soon I will also be posting a link on my sidebar to all the
Summer Cleaning Frenzy Friends
and to their room of the week list as well.
I am also going to try and have a reasonable balance between fun and projects this summer. So that at the end of the summer, my family will still be speaking to me, my friends will still be speaking to me, my dogs will still be speaking to me, and I will still be speaking to me!
What are you doing or going to do today to make your home sing?
Please go
here
for instructions and/or ideas and come back here to link up to join us today! As always, please don't forget to link to this post.
Also, please don't forgot to leave me a comment!
Please note: Mr. Linky has been rather interesting lately, so we want to pamper him all we can. To link up, please click on the box below, and it will take you to the Mr. Linky box where you can link up as usual.
You may need to delete whatever was in the box previously, but don't worry, you're not deleting someone's link. Mr. Linky just may not be cleaning up after himself, that's all. Just delete whatever is in the box and put in your own link.....you won't ruin anything! If you find you have trouble leave me a comment and I'll link you up!