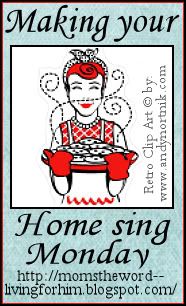 Welcome to the Making Your Home Sing Monday meme!
Yesterday it was 70° ! 70°!!! How awesome is that? Except for you Floridians and others who are boasting 80's or 90's, etc.
I was driving my youngest over to a friend's house to do a little male-bonding over basketball. I had the windows down and was listening to music, the sun was out, it was light and bright and the days are getting warmer and longer. Spring is finally here! For today at least.
It got me to thinking about the temperature of a woman's home. We are the barometers of our home. You've heard the phrase "If mamma's happy, everybody's happy." We can bring light to our homes, or gloom!
If you don't believe me, start slamming cupboard doors, snip at everyone and complain alot, and let's see how quickly everyone's mood takes a nosedive, including your own.
When the kids were younger, my husband would come home from work, and I'm sure he would have loved about 30 minutes to unwind, read the paper, put his feet up, whatever. As women, and especially women who are home with the kids all day, we tend to view our husband's job as a "break." When he comes home, we expect help.
Right

.

Now

.

And

.

Hurry

. Up.
Dad comes in the door and it's "Here's the kids. I've been doing this all day. It's your turn." Sometimes I even met him at the door with baby in hand! I totally agree that Dad needs to be supportive at home. But mom needs to be supportive of Dad and understanding of him too.
My poor husband would come home and the kids would be whining and I'd be whining and nobody was particularly happy at the moment. Does that sound like something you'd want to come home to? Does that sound like something you'd hurry home to?
Can you imagine being greeted at the door with complaints about mom's day? If mom is complaining about her day all day, does dad think she's glad to be home? I love the verse from Proverbs 25:24 that says "Better to live on a corner of the roof than share a house with a quarrelsome wife."
Another one is Prov. 21:19 "Better to live in a desert than with a quarrelsome and ill-tempered wife."
Really. A desert is preferable? A corner of the roof is preferable?
When hubby comes home we are so tempted to unload on him. Unload our frustrations, our anger, complaints, unhappiness or whatever we were feeling that day. I know more than once my husband said something like "If you're so unhappy, maybe you might be happier if you go back to work."
That took me by surprise. Because I was happy. I loved being home. Not that he could tell that by my behavior or anything. Can your husband tell it by yours? (I know, ouch! Sorry.)
I wasn't doing myself any favors by storing up and building up all these emotions, waiting to unload them on my unsuspecting husband. I wasn't doing him any favors either. I would have been better off praying about them instead of stewing about them.
Eventually, I learned to give my husband about 30 minutes after he came home to unwind. I made a big deal about having the kids and I greet him at the door (when we could), then we would give daddy some time to relax after his day.
Just having that time for daddy helped me too. It helped me think about what wasn't working in the "crying hour," the hour before dinner when the kids were crazy and I was crazy trying to fix dinner. It helped me come up with ideas to make that transition time more peaceful for the kids and for me.
I imagine those of you who work outside the home run into the same problem. When you come home tired after working all day, and now you get to fix dinner. Goody!
I came up with snack options, activities to occupy them, and tried to have dinner preparations better thought out and planned. I also learned to hold my tongue, and give my husband time to unwind before "unloading" on him. I discovered I was able to "unload" with a better tone of voice and better choice of words. Easing the transition stress for the kids eased my stress too.
Waiting to talk with my husband allowed me to take it down a notch. To be able to calm down a bit and tell him about my day, minus the crying. It helped us to be able to discuss it without me getting emotional, defensive, or being argumentative. It also helped me realize that maybe my hubby had a few good ideas, which I learned to listen to instead of automatically shooting them down.
My kids are older now, but I still have moments where I "unload" my day the minute my husband walks through the door. Imagine walking in the door and being told the dog is throwing up, the sink is backing up, and so is the toilet....and would you please go fix everything....you get the idea.
For today, I am going to try and remember to give my husband some downtime when he gets home....what about you?
What are you doing or going to do today to make your home sing?
Please go
here
for instructions and/or ideas and come back here to link up to join us today! As always, please don't forget to leave me a comment!