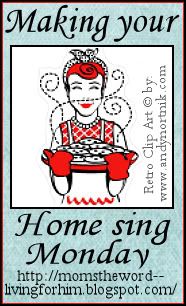 Welcome to the Making Your Home Sing Monday meme!
Last week I blogged that I was taking some time off, which I did. I did miss talking with you and reading your blogs. So hopefully all is well with everybody. Thank you for your lovely comments, by the way.
There are two things I know. I know that we cannot make our homes sing if we are never in them. I also know that we cannot make our homes sing if we're always on the computer, watching t.v., reading a book, twittering, texting, running around with our friends, or whatever else is available out there.
Sometimes, stay at home moms really like to get out of the house. Alot. And we can fill our weeks with endless trips to McDonalds (woohoo!), Costco (another woohooo!), the library, shopping, the park (not so much), the mall (rarely), running errands, etc. Some things need doing that day, some don't.
When my kids were little, we were gone alot. Sports, church activities, friend play days, McDonalds trips to meet friends, homeschool co-op, parks, the zoo, etc. It always seemed more fun to go off and do something than to stay home and manage my home. Hanging out at the park was much more fun than mopping the floor!
The problem is that if this happens alot, then things aren't getting done around here. I find the same situation with blogging. It can take a little time, or a lot of time. It just depends on how you use it.
Time. I don't have time to deal with time. It takes to much time (lol!).
This week I discovered I can do twitter on my computer (you can see my updates on my left sidebar). It's also just one more thing to take up my time, lol! Blogging takes time, surfing the net takes time, watching t.v. takes time, reading takes time, cooking takes time, cleaning takes time, reading my Bible takes time, spending time with my family takes time.

We all have the same amount of 24 hours available in our day. Some people do great with time management, some not so great. Some people get more things done than others. But we all have the same amount of time available to us.
Time is a choice. We always have time to do something, don't you think? Always. But it's just that we are choosing to spend our time doing other things. If I want to do one thing, I have to spend less time doing something else. It all comes down to how we choose to spend our time.
So this week I am going to take a look at my schedule/priorities and see how I am choosing to spend my time, so that I can manage my days better. I cannot regain the time once it's spent, and I wish to spend it wisely.
I may not be blogging every day, or maybe my posts will be shorter (won't you be thrilled!), I don't really know. But I do know that evaluating how I am spending my time is an awesome way to make my home sing today!
What are you doing or going to do today to make your home sing? Please go here for instructions and/or ideas and come back here to link up to join us today! As always, please don't forget to leave me a comment!