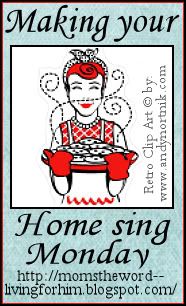 Welcome to the "Making Your Home Sing Monday" meme!
There are certain times when it is hard to be a woman. You know what I mean. It's when you feel cranky and crabby (is that the same thing?) and you just don't feel like being "nice." You want to rip somebody's head off, and then two seconds later you want to dissolve into a little puddle of tears on the floor.
It's a roller coaster of emotions. And so many times, those emotions drive our behavior.
Imagine the confusion of the child who comes up to mom with a simple request, expecting to be treated sweetly and lovingly, and mom flares at him. Maybe another time it's for forgetting to take his shoes off, or for interupting her on the phone, or for any number of transgressions.
Imagine the hubby or co-worker or friend who has to tread very carefully, for fear of "setting" her off.
What can seem like a minor irritant on some days can seem like huge issues on other days. Ah the joys of being a woman. What can cause us to simply roll our eyes one day can turn us into a raving ball of hormones on another day. I am sure my own children have thought I was going around the bend a time or two.

We can blame hormones all we want, but in all honesty, we have to look at how we behave in front of others. If I can control my behavior when I'm out at a store, at church, hanging with friends, or (for some) at work during times like this, then shouldn't I be able to control it at home as well?
If I can treat others fairly and kindly, when all I want to do is curl up into a little ball and howl at the moon....oooops, sorry, I guess I've been watching to much t.v.....anyway, if I can respond kindly to others out in public, then I ought to be able to control my behavior and be just as kind at home.
I no longer have the excuse of "hormones" because I've proven that I can control myself in public. I can no longer use the excuse of hormones as a reason to be ugly and wrong my family with my words or my actions.
Why do we "let loose" at home? Because we can. Because we're tired of "holding it together." Because we really don't care what they think about us. They are family and we know they love us, absolutely. We are "safe" with them.
But we're also not overly worried about what they're thinking. If we were, we wouldn't be crabbing at everybody. We wouldn't be making everbody feel like they have to walk on eggshells, not sure who's coming out...normal mom or "mad" mom. Finally, because we're human and we're not perfect.
Maybe it's just me that get like this. I don't know. I'd like to think I'm not alone but you never know.
Today I can make my home sing by remembering that my emotions don't have to drive my behavior. Today I can put a smile on my face and "fake" it until I "make" it. Today I can pray, leave my emotions in the Lord's hands, and remember from Whom I draw my strength!
I don't have to live out of my emotions today, and I can praise Him and be thankful for the things I have to do, and for the family that I do it for. So if you see somebody today with a silly smile on their face, hopefully that will be me!
What are you doing or going to do today to make your home sing?
Please go
here
for instructions and/or ideas and come back here to link up to join us today! As always, please don't forget to leave me a comment!