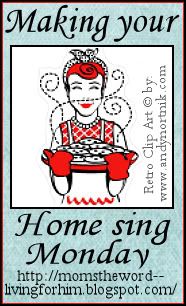 Welcome to the "Making Your Home Sing Monday" meme!
As I write this, I am looking out my window and it's snowing. However, I am not worried because inside my home it is warm and cozy and peaceful.
That is what it is like to make our homes "sing." As homemakers, we have the ability to make our home a place of rest and beauty and welcome, or we can make it a place that people can't wait to get out of...including our own family.
I don't think you have to be home full-time to be a homemaker. If you are a woman living in your home, you are a homemaker. A man can be a homemaker too if he's in charge of the making of his home. Even if you're the only person living in that home you're a homemaker, because you are making a home for yourself too.
Do you hesitate to invite people over? Do you hesitate to invite your children's friends over (if you have children)? Do you hesitate because you are afraid that they will mess up your nice clean home, and that things will get to noisy and chaotic to your liking? We want to remember that we are not just making a home for ourselves, we are making a home for our precious family too.
Can you relax in your own home? Do you follow everyone around when they come over to visit, or follow your own family around during the day, and try to make sure they don't mess anything up ever, or can you relax a bit and enjoy the company of your friends and family?
Do you hesitate to have people over because your home is messy and you don't want anyone to see it? In my messy days I lived in fear of people coming over. After I got my home in order I lived in fear of anyone messing it up.
Do you feel self conscious about your furniture or your cooking skills and are nervous about having someone over, fearing they may "judge" you? Do you tell yourself they are coming to see you not your home but have trouble believing it?
Part of making our homes "sing" could be practicing the gift of hospitality. Sometimes we think that we have to have an immaculate home in order to do it, or lots of money, or expensive furniture or great taste in decorating or be a gourmet cook. So we hesitate to have people over.
We've had people over for spaghetti, hamburgers, waffles, homemade frappuccinos, or even just popcorn and nothing else (well, except for pop or water). We've had game nights, we've sat around the piano and sung worship songs, we've prayed together, we've laughed and talked and fellowshipped, we even had a "Flowbee" night where we cut hair, our record was seven haircuts in one night. (Yeah, we really know how to live at our house....don't you just want to come over now?).
I Peter 4:9 talks about offering hospitality to one another. I must admit that we aren't practicing hospitality as often as we used to. This week, I hope to make my home sing by having some friends over and just enoying their company. Giving the gift of hospitality as a family is a great way to spend time together. You get to enjoy your family and also your friends and their children as well!
What are you doing or going to do today to make your home sing? Please go here for instructions and/or ideas and come back here to link up to join us today! As always, please don't forget to leave me a comment!