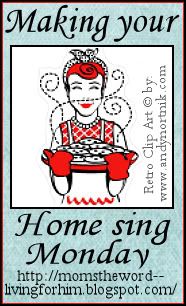 Welcome to the Making Your Home Sing Monday meme! Every day you are doing something to make your house into a home for yourself and your family (if you have one). My point with each Monday post is, what are you doing or going to do today to make your home sing?
It can be an attitude or an action. Motivation, our attitude, baking, encouraging our husband or children (if we have either one), organization, cleaning, saving money....the opportunities are endless.

H
ow
safe is your husband's reputation with you? How safe are your childrens' reputations?
When you are upset or annoyed, do you tell your friends the latest "stupid" thing that your husband did? Do you entertain your friends or co-workers with juicy details of your latest fight, relishing in the support and the justification that they give you?
Can you hardly wait to call and tell them what your husband did
now?
What your children did now? Do you feel an eagerness within your spirit to see them cast in a bad light so that you look better, or so that people realize what you "have to put up with?"
Prov. 31:11 & 12 says
"Her husband has full confidence in her and lacks nothing of value. She brings him good, not harm, all the days of her life."
He trusts in her. He knows that she will be a help to him, not hinder him. His
heart
is safe with her, his
reputation
is safe with her.
Can our husbands trust in us to use discretion? To be supportive and build them up, not tear them down in
public
as well as in private? Can our children trust that we won't make them look bad by sharing their most embarrassing or negative moments with our friends or on our blogs? Do we post things on our blogs about someone that we would never want that person to read? Do we use our blogs to blow off steam and air things that should be kept private?
If you're upset with your husband, does everybody know about it? If you're out and he annoys or irritates you, do you "have it out" right there, whether people are listening or not? Do you tell your husband's faults (or children's) to anyone who will listen? Do you involve your children in your arguments with your husband?
You only have to have a fight and look at your childrens' faces to see how they feel about it. It scares and confuses them. They cannot see the difference between a little "tiff" and a knock down drag out fight. To them, it's all the same.
Do you have trouble leaving your parents emotionally? Do you still call them and complain about your husband's words or actions?
Long after your anger is gone and you and hubby have "made up," the person
you
involved, whether it is your child or your parent or friend, is often still stewing about it. They don't have the closure that you've had, so they will often feel upset with your spouse, on your behalf, long after
you've
moved on.
There is a fine line here. Some women are in difficult or abusive marriages and they need support. I am not talking about this. I am talking about the habit of husband bashing and complaining, which I did my fair share of early in our marriage. I know that I blew many a situation out of proportion by inferring wrong motives on my husband, or putting words into his mouth that he didn't say.
Communicate your feelings to your husband, not someone else. Let it be over when it's over
.
Don't add fuel to the fire by picking up the phone and bringing it back up again.
When we are tempted to share our disagreements, perhaps we should ask ourselves what is our purpose in sharing? What do we hope to get out of it? Validation? Agreement that
he
is in the wrong? Pity? Justification? Support?
What was
our
part in the situation? How did
we
respond back? Were
our
actions fair? Supportive? Loving? Remember, we are responsible to the Lord for our
own
actions. Let me remind you that I write this for myself too. I need to hear this as much as the next person.
Set boundaries on what you'll share, both in person and on your blog
.
For example, I always ask my husband and childrens' permission before I share things about them on my blog, and I ask my husband to read every post that he's mentioned in, including this one. Setting boundaries is one way I'll make my home sing this week!
What are

you

doing or going to do today to make your home sing?
Please go
here
for instructions and/or ideas and come back here to link up to join us today! Please do not put your own Making Your Home Sing Monday Linky on your blog. As always, please don't forget to link to this post. Also, please don't forgot to leave me a comment!